What is Purchasing Power and how is it affiliated with my employer or organization?
Purchasing Power helps you buy the name brand products and services you want today, and make manageable monthly payments through payroll deduction (if you are accessing the program through your employer) or bank account (if you are accessing the program through another type of sponsoring organization or association). It's easy to budget since manageable payments are deducted in equal installments. Your employer or organization offers Purchasing Power as a part of your employee or membership benefits package.

Back to Top


What differentiates this program from what I can get on my own? What is my benefit?
If you have cash, going directly to the retailer is your best option. However, many people need to finance their purchases and pay for it over a period of time. If you don't want to use cash or credit, Purchasing Power is the best way to buy. To view more about Purchasing Power pricing, click here.

Back to Top


What is the order experience like? Is there anything I should know before placing an order?
Purchasing Power aspires to make buying from us easy and convenient, whether you choose to order online or through our Customer Care team!

- If this is your first time shopping with us, register to gain access to the catalog specifically designed for your organization/employer.
- Find out your spending limit in the My Account section.

- Browse our catalog of top-of-the-line, brand new, brand name products.
- Place the items in your cart.
- Complete the order process by entering the last 4-digits of your social security number.

- Within the hour your order will move to 'Pending' status.
- We will send you an email confirming your order and let you know if we need any additional paperwork to complete your order.
- When your the paperwork is complete, your order moves to 'Processed' status. That means that we have placed your order with our suppliers to get your item on its way.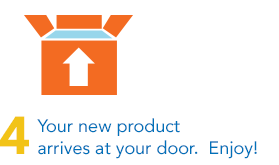 - You will receive another email letting you know when your order has shipped. It will include the tracking information for your item.
- Most items in new, unused condition (manufacturer's seal is unbroken) can be returned within thirty (30) days. Freight items are typically non-returnable. However, if you notice any damage or defects once you receive the item, please contact us within 48 hours of receiving the item so we can further assist you.

Can I use Purchasing Power?
If your employer or organization offers Purchasing Power, then you can register for a free member account. Once you've registered, log in and go to My Account and click on My Eligibility and Program Information to view the full eligibility requirements.
Back to Top

Can I pay cash for my order instead of having payments taken from my paycheck?
Yes, but if you have cash, going directly to the retailer may often be your better option. With Purchasing Power, it is easy to budget since manageable payments come out of your paycheck in equal installments. Paying via payroll deduction or automated deductions ensures you do not miss a payment and remember, the purchase price is the same whether you pay cash up front or pay over time using the program.

Back to Top

Can the program be set up as pre-tax deductions?
Unfortunately, we are not able to provide our program as a pre-tax benefit.
Are the products new or refurbished?
Purchasing Power only offers new, name brand products.

Back to Top
How do I submit a product recommendation?
Our catalog is continually expanding, and we want to know what you would like to see offered in our online store. Please submit your product recommendations through our Facebook page.

Back to Top