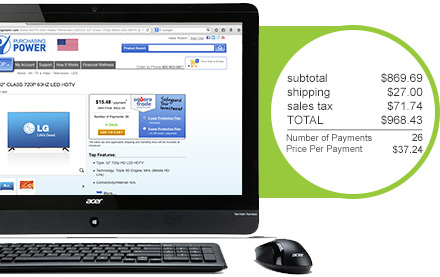 The price you see is the price you pay
Purchasing Power empowers hard working people with a convenient and responsible way to buy through an automated deduction from your paycheck or bank account.
When you shop through Purchasing Power, the price you see is the price you pay. In addition, you won't be hit with the ballooning interest or hidden fees that often come with traditional financing programs.
Learn More
Premium products and services delivered upfront
We make buying from us easy and convenient, one click at a time. Our online shopping experience is very similar to what you've come to expect from your favorite online retailers, but with the added value of paying over time with zero-interest financing.
Once your order is processed, your items are delivered immediately. Your items are delivered to your door and your automatic payments start to be deducted.
View Products
Purchasing Power has made it easy to obtain items for my daughter for school and for Christmas presents that I otherwise, as a single parent, may not have been able to do. The product selection is awesome and the speed and accuracy with my order is outstanding. I will continue to use Purchasing Power in the future. I could not be happier with my purchases.
Stacey, September 2014
Want to learn more?
Learn the benefits of Purchasing Power from an individual, employer or broker perspective: